A Celebration of the Holidays - For Pet Lovers
Welcome to our holiday / Christmas issue! In celebration of our four-legged friends, here are a few of our favourite quotes, poems, and charities.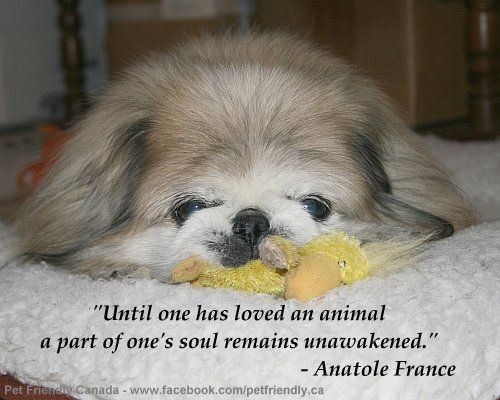 Pet Charities - Even A Little Means A Lot
The holiday season is the largest fundraising time for many charities, who rely on donations to pay for food, veterinary bills, and other care for the animals that rely on them for help.
If you're looking for an organization to support, here are a couple of suggestions:
SAINTS
SAINTS (Senior Animals In Need Today Society) is a rescue sanctuary for senior and special needs animals. As you can imagine, the veterinary expenses required to care appropriately for these aging animals can be immense! Monetary donations are welcome as are items on their wish list ... or become a part of their 1000 Saints program by donating just $25/month.
DOGS WITH NO NAMES
Dogs With No Names is an innovative contraception program that seeks to reduce the number of homeless and unwanted pets by using a contraceptive implant to prevent unwanted litters. Currently the program is being implemented on First Nations reserves, where there is an abundance of dogs without homes. Donations are greatly appreciated, or purchase the book with 100% of the profits going towards Dogs With No Names initiatives.
Just A Dog
From time to time people tell me, "Lighten up. It's just a dog." or "That's a lot of money for just a dog."
They don't understand the distance traveled, time spent or costs involved for "Just a dog".
Some of my proudest moments have come about with "Just a dog".
Many hours have passed with my only company being "Just a dog" and not once have I felt slighted.
Some of my saddest moments were brought about by "Just a dog". In those days of darkness, the gentle touch of "Just a dog" provided comfort and purpose to overcome the day.
If you, too, think it's "Just a dog", you will probably understand phrases like "just a friend" or "just a sunrise" or "just a promise".
"Just a dog" brings into my life the very essence of friendship, trust, and pure unbridled joy. "Just a dog" brings out the compassion and patience that make me a better person.
Because of "Just a dog" I will rise early, take long walks, and look longingly to the future.
For me and folks like me, it's not "Just a dog". It's an embodiment of all the hopes and dreams of the future, the fond memories of the past, and the pure joy of the moment.
"Just a dog" brings out what's good in me and diverts my thoughts away from myself and the worries of the day.
I hope that someday people can understand it's not "Just a dog." It's the thing that gives me humanity and keep me from being "just a man" or "just a woman".
So the next time you hear the phrase "Just a dog", Smile because they "Just don't understand."
(Author unknown)
Thank you for being a part of the Pet Friendly community. We wish you a holiday season filled with laughter, joy, friends, and family!