PET QUOTES
"What counts is not necessarily the size of the dog in the fight - it's the size of the fight in the dog."
(Dwight D. Eisenhower)
"A cat isn't fussy - just so long as you remember he likes his milk in the shallow, rose-patterned saucer and his fish on the blue plate, from which he will take it, and eat it off the floor."
(Arthur Bridges)
Pet Story: FROM POUND DOG TO THERAPY DOG
Source: Pet Stories from PawFriendly.com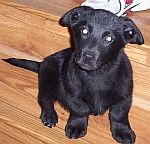 A pound in Utah was so full it sent some of its puppies to another pound in Salt Lake City, in the hope they might be adopted. We had been using Pet Finder for several months, searching for a Corgi mix puppy, when we came upon Chaco's picture. We had run into some trouble previously with shelters not wanting to adopt out-of-state, so we tried not to get our hopes up. The lady at the pound told us that Chaco had been 'viewed' by potential families but was still available. He had to be adopted by the end of the week or his time was up. He was already four months old and the pound was going to euthanize him.
It was a concern that we were out of town, but as the days crept by, the girls at the pound talked with us more and more. They had Chaco neutered 'just in case'. It was the bitterest of winters and it did not look viable to make the drive to Utah get a puppy. We sent a friend who lived in SLC to see Chaco and she said he was adorable. We were already in love. More phone calls discussing possible options were made. Friday morning came around with no solutions, and Chaco's last day drew nearer.
In a last ditch effort, my partner, Paula, called the pound in tears and begged. She said she would buy a ticket if they could take him to the airport and put him on a plane. And that is exactly what happened. The girls at the pound seemed to realize this was a special situation. They put Chaco in a carrier and took him to the airport. It was only a few hours before that little boy was in our laps. He was full of personality from the first moment he hopped out of the crate! We sent a generous gift basket to our 'pound angels'. They went above and beyond.
Chaco looks like a big, black Lab with short Corgi legs. He is quite the combination! Early on he showed an aptitude for learning and wanting to please. We decided to pursue Therapy Dog certification through the Delta Society. He passed his testing the first time! Chaco, now almost 3, works in an Alzheimer's home on Sundays and comes to our elementary school (we both teach) on Wednesdays to work with our autistic and blind students as well as visiting others in order let students read to him. He enjoys doing his tricks: shake, roll over, speak, and catch the bubbles. He loves young and old, big and little, and wheelchairs, crutches, or disabilities don't bother him a bit.
Chaco has given us more love and happiness than we ever could have expected. He is very much adored by all he meets. It is hard to believe he was one day away from being put down. We look forward to many more happy days with our wonderful boy.
______
Story sent in by Chaco's happy owners, Peg Biedermann & Paula Willis of Albuquerque, NM.
VACATION CARE TIPS FOR YOUR CAT
- By Andrea Sparks, staff writer at
Overstock.com
Source: Pet Care Tips and Articles
You've been planning your vacation all year, but your cat may not be as excited as you are to have you away from home. Although many people believe cats prefer to be on their own, kitties get lonely and can become anxious when their surroundings change. As a responsible pet owner, you will want to make sure your kitty is safely and comfortably cared for while you're on vacation. The following tips can help you ease the stress on you and your feline friend when you're away and give great ideas for cat supplies to keep your cat comfortable.
Caring for Your Cat While You're Out of Town:
Hire a pet sitter. You should never leave your cat home alone when you leave for extended periods of time. You never know what could happen while you're away, and having someone there will help keep your kitty safe. Your cat can also get lonely and even suffer from separation anxiety, which can cause your kitty to damage your belongings, become too anxious to eat, urinate or defecate inappropriately, or engage in other anxiety-driven behaviors. To keep your cat safe and calm, you'll want to find a pet sitter that both you and your cat can trust. Someone your cat already knows, such as a family member or close friend, is ideal. If you need to hire someone who your cat does not already know, invite the pet sitter over to meet your cat before you leave so that your cat and her sitter can become familiar.
---->> CONTINUE READING