PET QUOTES
"I think we are drawn to dogs because they are the uninhibited creatures we might be if we weren't certain we knew better."
(George Bird Evans)
"Do not meddle in the affairs of cats, for they are subtle and will piss on your computer."
(Bruce Graham)
Pet Story: A NEW HOME FOR FREEWAY
Source: Pet Stories from PawFriendly.com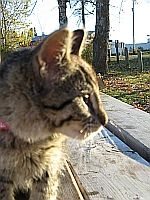 John, Peppy and I had recently moved to a small town in Alberta from B.C. One evening while on an exploration of the area by car I saw something out my window.
I yelled, "John! There is a kitten on the side of the road! Turn around!"
John turned us around but we didn't see the kitten at first.
John then saw her on the other side! Much to our surprise and delight, the wee thing had crossed the 110 kilometer, very busy highway and survived.
I hopped out of the car armed with my warm, white sweater.
Frightened, hissing and tearing up the side of the ditch covered in tall grasses, I watched this tiny bundle of fur. I spoke softly, approached slowly and the feline seemed to settle. I picked the scared little package up and was rewarded with a couple of bites and scratches.
Still speaking softly I bundled the ball of fur in my sweater and rocked, as one would a baby. She began to purr.
Stepping back into the car, my husband and our compassionate poodle x Peppy gave the kitten a look over. Her left eye, which I thought was completely missing, was actually just puffy, infected and pus-filled. There was a scratch above her left eye. Chin raw. Pads on paws scuffed.
DOG JOINT PROBLEMS: MANAGING CANINE ARTHRITIS
Adapted with permission from
ScamperingPaws.com
Pet owners often first notice dog joint problems when their dog is slow to get up, moves slowly or stiffly, or refuses or is reluctant to climb stairs. Sometimes it's the result of age-related degeneration, sometimes the dog is born with it, and sometimes it's the result of a number of other factors. Whatever the cause, it's important to get your vet to determine whether or not your dog has arthritis or some other type of joint condition. If your dog has arthritis or stiff joints, you can help manage the condition and keep him mobile with the following tips:
Keep your dog at a healthy weight. Feed him a nutritious, wholesome diet and if needed, manage his food intake if he needs to lose a few extra pounds. Extra weight puts additional stress on joints.
Treat your doggie to fresh air and exercise. Keeping his muscles strong will help to support his joints. Plus fresh air and exercise is just as good for dogs as it is for people!

However, don't overdo the exercise. Take 2 or 3 shorter walks rather than one big long one. Let your pooch rest a while if he seems tired. Try short swimming sessions (water exercise isn't as hard on the joints).

Remember, exercise is important, but not to the point where your dog gets hurt! Even dogs with joint health problems may be enthusiastically ready to keep going for what seems like a long time - reign them in for their own good. Keep your exercise sessions smart and appropriate for your dog's condition.

Support your dog when he tries to get up onto couches, into cars, onto beds, etc. Many pet supply stores now sell dog ramps. These ramps are placed next to a high object, like a bed or a car, to allow the dog to simply walk up the ramp instead of attempting to jump (and if you have a big dog, the ramp will save you from trying to heave your dog into the car or onto the bed yourself).
Investigate joint supplements such as glucosamine, chondroitin, and MSM. Additional supplements like wild salmon oil can also help to reduce inflammation.
Try acupuncture. Acupuncture can help improve circulation and relieve pain.
Be open to homeopathic alternatives like Zeel or Traumeel, both of which have received many positive reports from dog owners who use them to help relieve their pet's arthritis pain.
Get your dog a comfortable bed, if he doesn't already have one. A good, supportive bed can provide welcome relief for sore joints.
Be sure to discuss treatment options with your vet. In particular, check with your vet first before adding any supplements to your pet's diet, especially if your dog is already taking medications or has other health issues.
___________________________
Article adapted with permission from ScamperingPaws.com, a collection of tips and articles on dog training, health, and behavior.