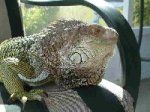 "Loving lizards is an acquired taste. As a child I was always fascinated with the little creatures. Besides crawling outside the screened-in porch of my Florida home with their flicking and bobbing heads, I witnessed spotted geckos sticking to windows and walls with their suction-cupped fingers. Strangely, they grunted in a low pitched tone on humid nights.
... My favorite reptile was one of the largest, the giant Green Iguana. Finally I obtained a six inch baby. Immediately I learned that these lizards don't think of themselves as pets nor do most other people.
'What the hell is that? It's face looks like a frog and itís got a snake tail and a fat tongue?' A friend asked. 'Is it venomous?'"