Pet Friendly Canada Newsletter - March 2009
PET QUOTES
"An animal's eyes have the power to speak a great language."
(Martin Buber)
"In the beginning, God created man, but seeing him so feeble, He gave him the cat." (Warren Eckstein)
PRINCE DUKE AND HIS "KIDS"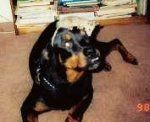 "Duke was my gentle as a lamb Rottweiler. While coming home from work one evening, I saw a dead possum in the middle of the road. It had something crawling on it so I stopped to take a look. I found 13 teeny, tiny baby possums moving around on their deceased mother. She had been hit by a passing vehicle. The little ones miraculously survived the impact. I suppose it was from being well protected inside their mom's pouch.
I picked up the little critters and put them inside my lunch pail. They couldn't have been over two inches each. I took the possums inside and put them on the hassock. Duke came over to have a look. He sniffed them and I told him to take it easy. He looked up at me and cocked his head. "What are you doing with those things?" he seemed to be asking. "Don't worry, Duke, I am just helping them out. They lost their mommy and need someone to care for them.""
PHOTOS FROM PROUD PET PARENTS

"This is a picture of my rescue dog Spike. He is about 6-8 yrs old and was a owner surrender. We've had him now since Aug/08 and he is a great dog, so loving, and he is a snuggle bunnie. He has 3 other sisters to play with, all dogs - another min pin and shepherd cross and a rottweiler. He's made a great companion to us all."
- Tammy L.

---

"This is my baby Coco who is 8 months old. He loves to play a lot with his toys, run and jump around. Coco is an English Angora Rabbit. My angelic Coco is very sweet, gentle and playful."
- Maria R.


"Here is a pic of my beautiful Llhasa Ahpso Whitney, who is 12 years old and lives in Kamloops, BC. I love her to pieces!"
- Heather G.

---

Want to see your pet here? Send us your photos!
BREED-SPECIFIC LEGISLATION (BSL)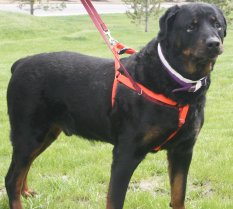 Loving dogs of all breeds live happily with their human families. Unfortunately, Breed-specific legislation, or BSL, place restrictions on "controversial" dog breeds. These can include (but are not limited to) "pit bulls", rottweilers, doberman pinschers, or mixes of these breeds.
People who own such breeds - or are considering adopting one - should take the extra step of researching local pet laws prior to adopting a dog, moving to a new city, or even travelling with their pet.
It should be noted that people should exercise caution even if their dog simply looks like a controversial breed.